Originally published by our Editor-In-Chief, Drea Sobieski as an anonymous review for Smith Hotels.
Cabo San Lucas has a reputation for being crowded, tawdry and wild. The Cape, however, could not be further from this portrayal, despite its proximity to the popular Baja tourist destination. The distinction between the two became clear the moment that Mr. Smith turned our rental car off the highway and onto a long, quiet road. It was late at night and our path was entirely unlabeled albeit for a small sign at the turn that simply read "The Cape", subtly marking our destination. We continued into the darkness towards the coastline. The distant rush of cars on the highway faded behind us and seamlessly melted into the sound of the ocean as its waves crashed to the shore beyond us.
We pulled up to the hotel and were welcomed with contagious smiles from the staff. Mr. Smith and I tried to stifle our excitement and maintain composure, especially as the reception informed us we were upgraded to a Junior Suite, with our own private plunge pool! (It's worth noting that these sort of things never happen to me – upgrades, winning things, contests or lottery tickets). We did our best to play it cool, attempting to blend in with The Cape's sophisticated demeanor. On the inside, however, I felt like a celebrity embarking on my first world tour. Our new friend, Javier, guided us to our second story room. He gave us a brief tour of the hotel's amenities but I was barely listening. I was too distracted by the freestanding copper bathtub, rainshower, full cocktail mini-bar, king-size bed, private balcony (and did we mention our own private plunge pool)?
As the door clicked shut behind Javier, Mr. Smith and I exchanged mischievous smiles from across the room. Almost on cue, we buzzed around the room like bees, peeking into every drawer, jumping on the bed and exploring every corner of our new sanctuary. I wondered if other people do this – tear the room apart in excitement and exploration – or if we were alone in this secret habit. Mr. Smith declared a tequila toast and like magic, our gaze fell on a bottle of silver tequila next to a note on the desk to welcome our arrival. Mr. Smith did the honor of pouring two glasses neat (no ice). We threw open the curtains and took the balcony, inviting the ocean to become a part of our toast. Throughout the night, we drank, we laughed, we plunged in our pool and relished in our imaginary life of sophistication and savoir-faire. I can't remember the last time I slept so well.
I woke to the warmth of the sun on my eyelids and the sound of the ocean waves beyond the terrace below. Our entire room was glowing in golden light that made the room appear even larger than the night before. Still lying in bed, I gazed past the terrace for a first glimpse of the landscape in daylight, only to be struck by wonderment at the painterly masterpiece before us. Sweeping ocean views in alluring blue resembled a painter's brush strokes. Further, in the distance, the sun illuminated the infamous El Arco and the neighboring rock formations as if a spotlight were being directed by the heavens. I woke Mr. Smith to make sure I wasn't dreaming. If it weren't for the waves below us breaking to shore, I was convinced that I was staring at a painting like a fool. We slowly made our way down to The Ledge for breakfast, snacking on fresh fruit and orange juice and happily distracted by our views.
Mr. Smith and I spent the afternoon basking in the sun by the pool. There was the main pool, home of the swim-up bar, with plenty of chaise lounges ideal for sunbathers and day drinkers. Then there was the neighboring salt water pool that Mr. Smith and I took a liking to, ideal for sol-drenched siestas in solitude or for curling up with a cocktail and cozy read. There was also the beach, where guests can seek refuge in coveted cabanas and daybeds. We refueled in the spirit of Mexico, sharing fish tacos and sipping margaritas. The staff was attentive to our every need and request, striking conversations and offering tips for our stay. By the end of our lunch they had transcended their title and were no longer staff – they were our friends.
A few hours in, our winter skin had seen enough of the sun for one day, so we headed back to our room to prepare for dinner. We had reservations at Enrique Olvera's esteemed Manta. The restaurant had been high on my "To 'Dine' For" bucket list after experiencing his Mexico City establishment, Pujul, and watching his episode on Chef's Table an embarrassing number of times. Olvera's creations are incredible – a tasteful (no pun intended) blend of traditional Mexican fare fused with global influences and an emphasis on seafood and fresh, locally sourced ingredients. There was beef yakitori with spicy ponzu, black miso fish tacos, octopus anticucho, and fresh guacamole. And then there was dessert: hibiscus and beet shaved ice, yoghurt ice cream and lime, and tres leches cake with black cherry ice cream. Each dish was artfully plated and perfectly portioned. With full and satisfied bellies signifying that good things, too, must have their end, we retreated back to our room. The ocean sang us to sleep one last time, while reality lingered just beyond the darkness.
At The Cape, steps between the untouched beach and hotel are short, while days are blissfully long. Minutes melt by slowly, allowing ample time to swap the touristy Cabo San Lucas crowds for solitude by the hotel's saltwater pool, and to trade tawdry beach parties for laid-back culinary sophistication, all while enjoying uninterrupted views. The only wild things you'll find at The Cape, are the waves. Our new friends bid us farewell as we start the car, journeying back up the road that once seemed so long. Behind us, the rush of the ocean waves diminished, replaced by the sound of the cars speeding by on the highway ahead of us. I tried to hold onto the sound of those waves for as long as I could on our journey home. I try to hold onto that sound even now. It reminds me of the quiet, the calm, my love for Mr. Smith, and the bliss we shared at The Cape.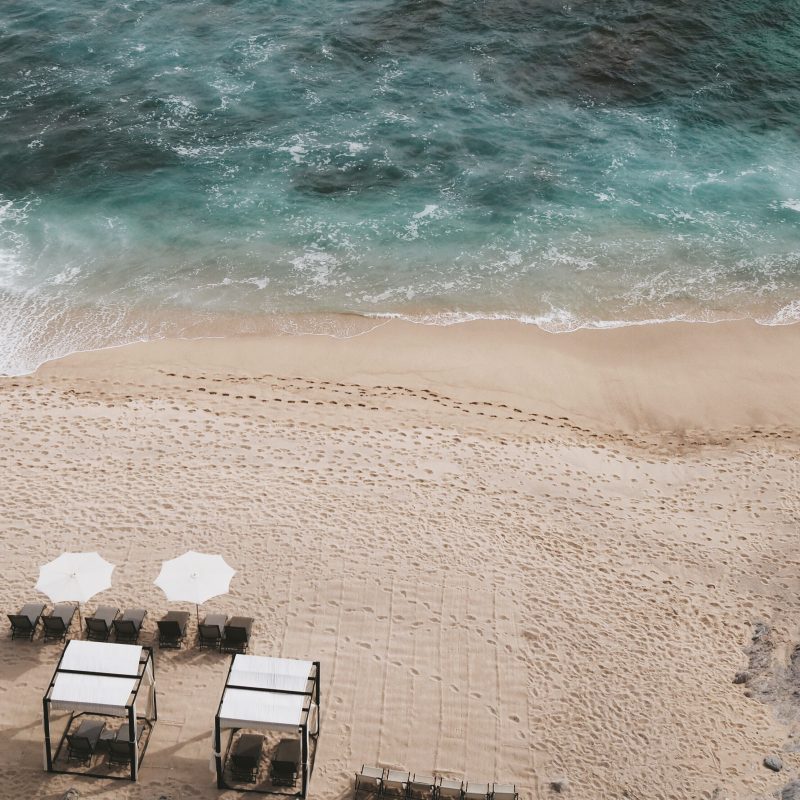 @thecapehotel
Book your stay via Smith Hotels for extra perks, like a $100 food and drink credit.