Beth Newman is one of those people you might unfollow on Instagram out of jealousy, simply because her life is not only fabulous, to use a trite word, but also because it appears to be truly joyful. It would be difficult to feel anything other than happy, we suppose, as the ultimate chic boss running US Press for the Americas at shopaholic favorite, NET-A-PORTER, traveling between New York and London regularly to meet with the who's who in designers, editors, brand CEOs, it girls and more. If Beth is well known—and she is—it's because of her impressively successful career and not because she's a person who posts sexy selfies (though she's a beauty, to boot). At least in our minds, this makes her a rare bird in 2017, one we expect to one day become the CEO of a company so prominent and powerful that we can't even quite imagine it yet. We'd trust her advice on many a topic—how to build a career for longevity, what pieces to purchase this fall, and everything in between—but here, we've asked her to share the spots she relies upon to set the scene for the multitudinous meetings she takes daily with all of the most important people in fashion. From London to Paris to Milan and beyond, she knows where to go to impress the unimpressible or, simply, to feel at home when home is far away. Her favorite meeting-perfect restaurants and coffee shops will have you dreaming of a career in which your business card is likewise pure gold no matter who's at the other end of the cappuccino across from you—we suggest you take notes and make reservations, even if they're just for the boss you want to one day be.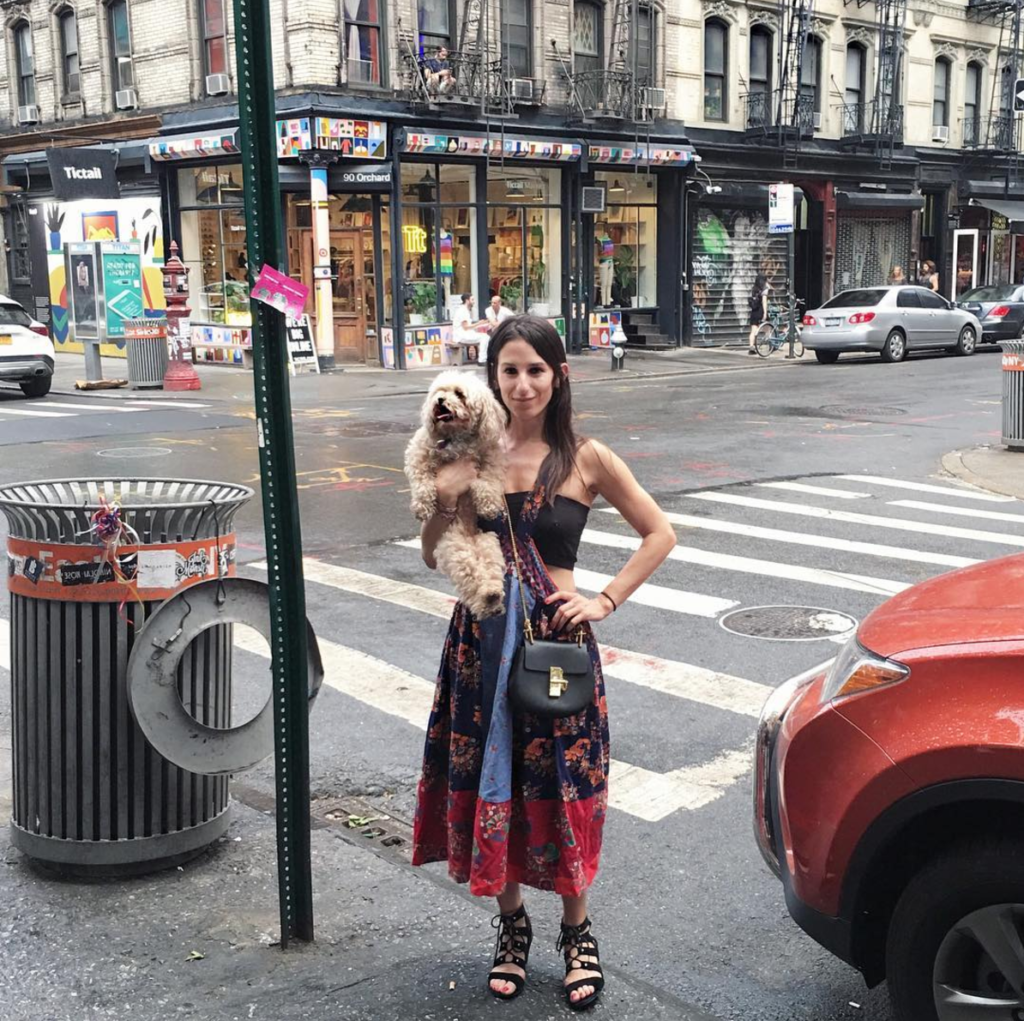 New York City
I'm based in New York City.  My office is located in Flatiron, and my apartment is just two blocks away, which makes morning meetings VERY convenient and I have a great pick of places! My standard is Bluestone Lane on Greenwich Ave. in Greenwich Village. Good ole Australian food!  Their "Breaky Bowl" is divine – poached egg, sautéed kale, some feta and quinoa. It's literally mouthwatering!  I will always have a Matcha Latte with breakfast and then get an iced Tumeric Latte to-go.  I will drink it as I walk to work.  For a more elegant occasion, I will jump on the subway to Soho and pop into the Crosby Street Hotel "Sculpture Garden" outdoor terrace.  The garden  is a little slice of reprieve in the city – you feel like you're in a mini oasis in Soho.
London
My current job and past job have both taken me to London for business too many times to count. I'm a London-a-holic; my best friend lives there and I feel very comfortable in the city. As I've been doing business in London for the past 9 years, I have a wonderful network of press, editors and friends who I always make a point to see.  As I usually stay in Soho, I'll do most meetings at Soho House on 76 Dean Street. The vibe is super chilled, and you can go from breakfast to lunch to cocktails and never, ever leave. The avocado toast with poached egg and a STRONG soy latte is a must-have for breakfast or lunch. Dinner meetings will always involve a cheeseburger and a bottle of Primitivo.  This never, ever changes!
My best friend also just introduced me to the most lovely little French spot in Soho called NAC.  The food is organic, clean and a great balance to my typical Soho House Cheeseburger.
Paris
In my last job as Head of Global Press for a denim company based in LA I would travel to Paris almost as frequently as I would travel to London. Paris is interesting because the fast-casual spots are just starting to pop up. I have three go-tos based on who I am meeting with – French editors are VERY specific, so you must know your audience! For a trendy, fast double espresso and gorgeous slice of banana bread, Le Télescope in l'Opéra is a winner.  Actually, the coffee is amazing! Meeting or not, it's always on my list. For a formal, "chichi" meeting, the lobby of Le Bristol ticks every box. The hotel is so utterly classic French and elegant. The people watching is just outrageous and so fun! For a more hipster dose of people watching, and another killer burger, I will always do a dinner meeting at Ferdi. My work and personal lives are very intertwined, so I save that meal for a fun friend or business colleague. Oddly enough, they serve Mexican food there as well!  And it's good…
Los Angeles
I lived in LA for 20 years, so I know that city as well as I know myself! I used to work deep in Downtown, so always liked to take advantage of the cute outdoor spots where you can sit on a patio year-round and wear a t-shirt, no matter the season!!  My favorite casual spot is called Urban Radish, located in the Arts District. They have a lovely little market in the restaurant that sells kombucha, fresh cheeses and gorgeous meats, and picnic tables outside for eating. Typically now, when I come to LA, I have to pack in a million meetings into just a few days.  I stay at the Sunset Tower Hotel, so you can find me in the Terrace Lounge by the pool morning, noon and night.  I make everyone come to me there, and no one ever complains!
Milan
Occasionally I will find myself on a business trip in Mlian.  Milan is a very interesting city that is mixed with fashion, industrial, and a whole lot of great food.  As the traffic in the city is pretty intense, I keep it very easy and will sneak out and have a quick coffee at the original Pasticceria Marchesi on Via Santa Maria alla Porta. This location is quite historic with a warm and cozy Italian feel. You can do a fast meeting and then be off to your day!
Follow Beth Newman on Instagram: @bethnicolenewman