Light hits the Riad Jardin Secret with a kind of ephemeral magic. It filters through the open roof terrace down to the first-floor lobby, illuminating the lush tropical garden growing as tall as the rafters allow, right up to the second floor. Canaries sing, and the slow cadence of a flowing fountain seduces you into this slow-living time capsule.
The Riad Jardin Secret (in English, "The Secret Garden") is a luxury boutique hotel situated a convenient 10-minute walk from Marrakech's energetic medina square. Managing a successful hotel takes time and effort, but running a boutique hotel with the above-luxury experience this one offers is an art-form that owners Cyrielle and Julien take very seriously. For them, it's about the granular details — bowls overflowing with fresh Moroccan oranges on each table, art and culture books and magazines stacked by the tadelakt (smooth plaster) fireplace. Artisan-made clay pots with blushing succulents line the window sills as Moroccan light filters through the intricately hand-carved balcony, casting shadows that look more like paintings along the terracotta-tiled floor. As a guest, these endless details, seemingly hidden around every corner, offer a chance to take rest but still explore and experience. I sat down with the owners to uncover the secrets of this enigmatic riad which has managed to capture the secrets of Marrakech and concentrate them into one luxurious haven.
How did you came to own and manage the Riad Jardin Secret?
Looking for adventure and a profound change of lifestyle, we chose to settle in Marrakech after many visits. In search for a riad we could call home, we came across this early 20th-Century house called Riad Jardin Secret. The people in charge before us didn't really take care of the place — there were no plants; there was a green metallic rooftop, nothing on the terrace. We felt kind of ashamed for the building because it's a fabulous structure. We visited other riads that would have been easier [to take over], with less work involved, but when you arrive here for the first time, you get the same sense you feel when you first land in Marrakech. You are instantly absorbed into the energy, the light and the magic.
Can you tell me a little bit about the history behind the building itself?
The story behind the building sounds like a fairy tale. A century ago, a rich Marrakchi built two identical riads, one of which he gave to his favorite mistress as a present. This generous gift was the Riad Jardin Secret.
What went into determining the architecture and interior design of the space?
The Riad Jardin Secret stands out for the quality of its craftsmanship, stucco, zelliges (terracotta tiles), tadelakt (smooth plaster) and textured hand-painted walls, which create a striking impression. Beautiful features by local artisans impart a contemporary flair to this historically listed interior.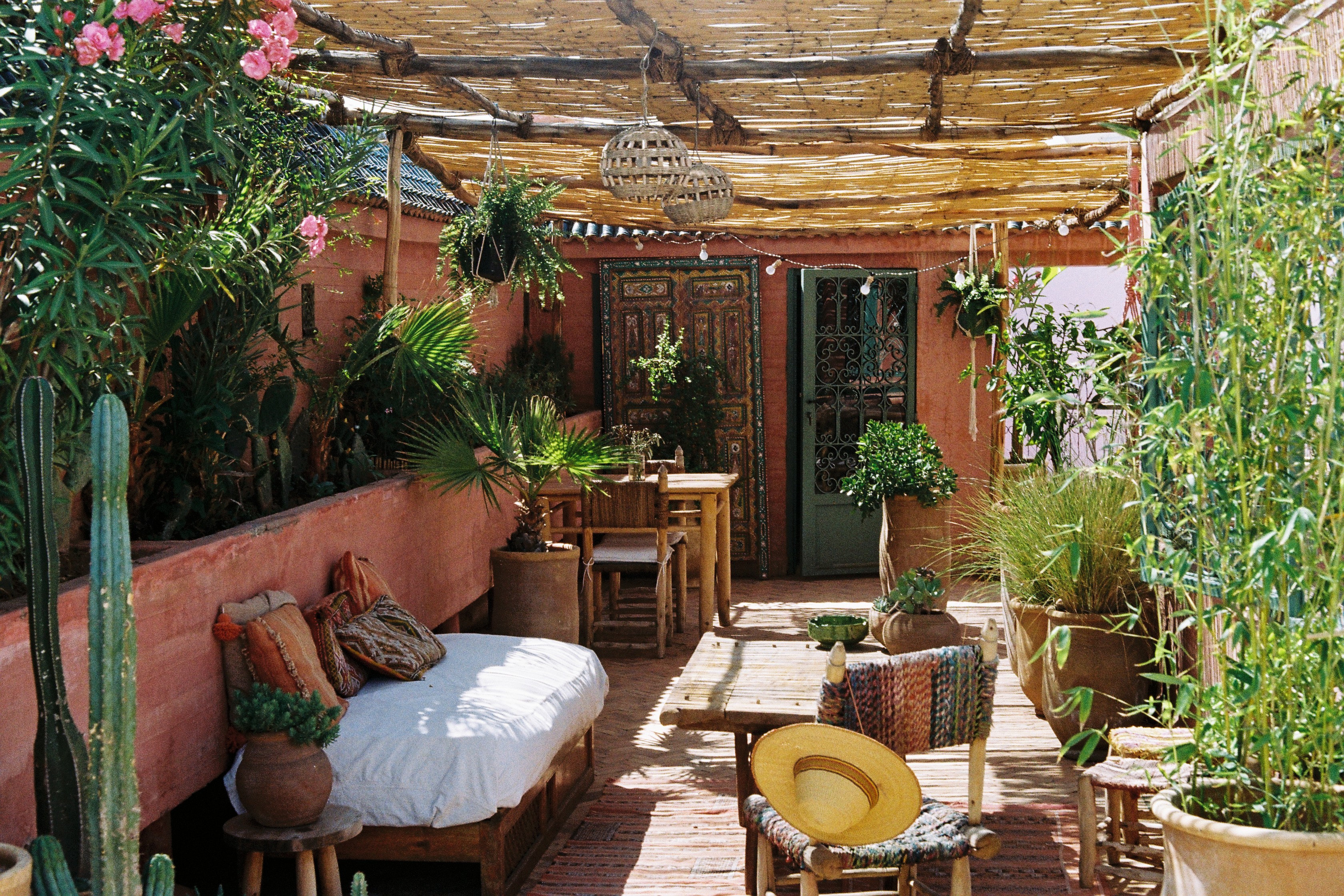 What personal elements have influenced the way you manage the hotel is managed and feels?
The Riad reflects our personalities and our history. Parisians at heart, we both used to work in the fashion industry. The atmosphere of the Riad is a reflection of our indie culture past, our biker road trips and tattoo culture, 1970's rock music and free-spirited attitude towards life.
What is it about Marrakech that you fell in love with?
Casablanca is more modern, with high-rise buildings, Tangier is more Mediterranean and Marrakech is a huge cultural melting pot. There are people from all around Africa — Moroccan, Israeli, Caribbean, European. We love the magic this creates and the unrivalled beauty of the Moroccan light. In search of an authentic life, we naturally turned to Marrakech. The name itself conjures up feelings of a whole new world just waiting to be discovered.
What do you enjoy doing in the city as locals when you are not working?
Getting lost in the souks and meeting new artisans; we could easily stay there for hours! But when we are not working for the riad, we are working away on new projects we have in mind! Our real free time is for photography and motorcycle rides in the desert.
What is your favorite aspect of this luxury hotel?
The Riad Jardin Secret is an authentic riad. The spirit is simple. It's anti-modern place that is rich in history. The riad has been entirely restored, respecting local artisanal traditions, and so we have conserved all of its authenticity. For us, luxury is not about ostentatiousness but more about exception, rarity and sincerity.
Book Your Stay
@riadjardinsecret
Marrakech, Morocco